Meet the Team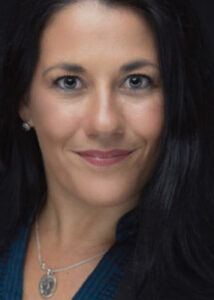 Dr. Jessica Pesce
Chiropractor
Dr. Jessica Pesce graduated from Palmer Chiropractic College, Florida in 2012 with the high honor of The Presidential Academic Award. Upon graduating she began practicing in Pensacola, Florida where she remained until returning home to New Jersey in 2019. Dr. Pesce is excited to be back at the Jersey Shore caring for her community as a member of the Brielle Integrated Healthcare team. Dr. Pesce reports that she really started her chiropractic journey as a patient when she was diagnosed with scoliosis at a young age. After only a few weeks Dr. Pesce had noticed significant improvements in her overall health and wellbeing. "Chiropractic care allowed my body to reach its full potential and gave me a better quality of life. I am passionate about sharing this with everyone".
Dr. Jessica's passion and purpose is to help others feel better throughout their daily lives. Whether it is to help athletic performance, help little ones with ear aches and colic, or maintain function in the elderly, chiropractic care helps the body heal itself naturally. She utilizes multiple techniques and collaborates with all disciplines of health care practitioners to customize a care plan specific for your needs.
She looks forward to meeting you and helping you accomplish your health goals and fulfill your potential.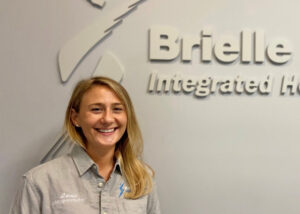 Lanie Wilt
Acupuncturist
Lanie Wilt is an NCCAOM Diplomate of Acupuncture, licensed to practice in NJ and NY. She received a Master of Science in Acupuncture from Pacific College of Oriental Medicine, NY, a Master of Arts in Counseling from Westminster Theological Seminary, PA and a Bachelor of Arts from Drew University, NJ. Lanie is a member of the NJ Association of Acupuncture and Oriental Medicine and has completed additional extensive trainings in Biomagnetic, Essential Oil, and emotional healing therapies which inform and enrich her acupuncture practice.
Lanie believes in treating each patient holistically, taking into account each patient's physical, mental, and spiritual health, integrating the ancient wisdom of acupuncture with a modern, biomedical understanding of the body so patients experience healing and opportunity to move forward from whatever injury or illness has led them to seek care. Her compassionate bedside manner and instructive educational approach includes lifestyle, dietary, and stress management strategies to help empower each patient in their personal journey of health and growth. She has particular interest in the areas of pain management, women's health, autoimmunity, and mental health.
A graduate of Manasquan High School, Lanie recently moved back to Monmouth county after living in Hoboken for the past few years and is excited to begin seeing patients here at Brielle Integrative Healthcare. In her free time she enjoys photography, cooking, hiking and enjoying the outdoors with her friends and family. You can find her on social media @AcubyLanie to learn more about wellness resources and how acupuncture can help you and your loved ones.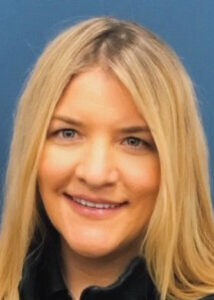 Dr. Laura Anastasia
Director of Physical Therapy
Dr. Laura Anastasia graduated from Lafayette College with a Bachelor's of Science in Psychology. She later went on to receive a Doctorate of Physical Therapy from New York Medical College. After graduating, Laura worked at an outpatient sports rehab setting in Westchester NY but inevitably, her love for the Jersey shore brought her back home. Laura has continued to work in outpatient orthopedic settings while honing her skills through evidence-based courses in advanced manual techniques.  She utilizes instrument-assisted soft tissue mobilization (IASTM) as part of her treatment approach; a technique to break up scar tissue and re-initiate the healing process. Laura's treatment philosophy focuses on looking at the patient as a whole and she tailors each treatment program specific to the individual to maximize patient recovery and outcomes.
In her spare time, Laura enjoys spending time with her family, especially their newest addition Sienna June. Laura has a passion for travel, a love for the outdoors, including the beach, hiking the mountains, and snowboarding.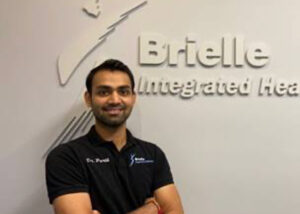 Dr. Parth Thakar
Physical Therapist
Dr. Parth Thakar earned his bachelor's degree in Exercises Science from Rutgers University in 2012. He then went to American International College of Massachusetts where he graduated with a doctorate degree in Physical Therapy in 2015. Dr. Parth enjoys all aspects of manual physical therapy with particular skills and knowledge of clinical anatomy. When he is not working, he enjoys spending time with his wife Ayushi who moved to the US from India.
Fun Fact: Dr. Parth has married the same girl (Ayushi Thakar) 3 times.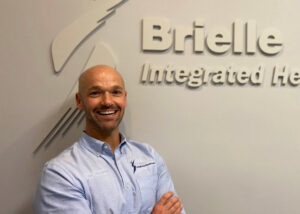 Dr. Kevin Lyons
Acupuncturist
Dr. Kevin Lyons, doctor of Acupuncture and Oriental Medicine received a dual degree cum laude in his clinical studies at the East West College of Natural Medicine in Sarasota, FL. He also achieved a Bachelor of Science degree from Philadelphia University. As a Board Certified and Licensed Acupuncturist in the state of New Jersey, with over ten years of experience he specializes in pain management, weight loss, facial rejuvenation, fertility issues, headaches, and everything in between.
Dr. Kevin's professional experience is as vast as the scope of Chinese Medicine and uses a highly personalized one-on-one approach and practical real-life solutions to assist his patients in achieving their health and wellness goals.
In addition to providing exceptional care to his patients, Dr. Lyons enjoys yoga, hiking, biking, and running on the beach with his dog Jackson.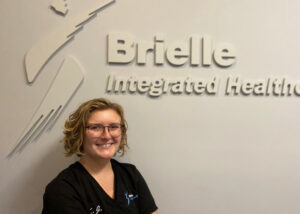 KJ Ackermann
Massage Therapist
KJ has been in the field of bodywork since 2015. She began with studying Kinesiology at the University of Rhode Island, then transitioned into massage at the Cortiva Institute. She has worked in both spa and medical settings. While KJ practices many different types of modalities, she is most passionate when assisting clients with their range of motion and flexibility. KJ's goal in her field is to improve her clients' quality of life.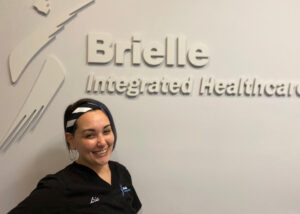 Lia Durazzo
Massage Therapist
Lia Durazzo has 10 years of massage experience. She graduated from Cortiva massage institute where she also spent time teaching after graduating. Over the years she has worked in various massage fields ranging from spa to different types of medical offices. Her modalities range from Swedish to sports massages. Lia however, specializes in deep tissue massages and main goal in her career is to help people become pain free.